Dari http://www.loyarburok.com
A conversation with 3 prominent student activists from 3 different generations – Isham Rais, Khairul Anuar and Hilman Idham will trace an oral history of student activism in Malaysia post-1969, looking into the context and politics of the mass student demonstrations at Tasek Utara, Johor and Baling, Kedah in 1974, the Reformasi resurgence of the late 1990s, and the current Pro-Aspirasi/Pro-Mahasiswa divide. Facilitated by
Fahmi Reza
of "Sepuluh Tahun Sebelum Merdeka" fame.


MAHASISWA MENGGUGAT!
Dialog Tiga Generasi Aktivis Mahasiswa
a conversation with
Isham Rais, Khairul "Jonah" Anuar, & Hilman Idham
@
24 July Saturday 8:30p.m. – 10:00p.m.
6 Jalan 6/3, Off Jalan Templer
Petaling Jaya, Malaysia
Bringing together three prominent student activists of the past and present, this conversation with Isham Rais, Khairul Anuar and Hilman Idham will trace an oral history of student activism in Malaysia post-1969 – looking into the context and politics of the mass student demonstrations at Tasek Utara, Johor and Baling, Kedah in 1974, the Reformasi resurgence of the late 1990s, and the current Pro-Aspirasi / Pro-Mahasiswa divide in our public campuses.
Facilitated by , this dialogue will also examine the political and organisational strategies, tactics and challenges faced by each generation of student activists.
Note: The conversation will take place primarily in Bahasa Malaysia.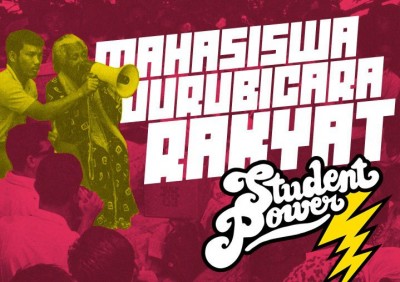 Bios
Isham Rais is Malaysia's most famous NGI – non-governmental individual – a mass movement of one. His writings have been collected in several books, including Pilihanraya atau Pilihan Jalanraya, Keganasan, Penipuan & Internet and Tapai. He was a firebrand student leader of the University of Malaya Students' Union (UMSU) and the Kelab Sosialis Universiti Malaya from 1973 to 1974.
Khairul Anuar, better known as Jonah, was a prominent student leader at Institut Kemahiran MARA during the late 1990s. He was heavily involved with the Gerakan Mahasiswa Lantang Negara (GMLN) and the alternative Universiti Bangsar Utama (UBU). He contested against current Prime Minister Datuk Seri Najib Razak in the Pekan constituency during the 2008 General Elections, and is currently the Parti Keadlian Rakyat Youth vice-chief.
Hilman Idham is a 21 year-old Political Science student at Universiti Kebangsaaan Malaysia. He is the founder and president of the Kumpulan Aktivis Mahasiswa Independen (KAMI) based in UKM, a supreme council member of Solidariti Mahasiswa Malaysia (SMM), and is one of the UKM 4 who are being charged under the Universities and University Colleges Act (1971).